We have been running our TRICARE Prime customer service feedback survey since May 2021. We have sent out a total of 413 surveys and received a total of 91 responses (accurate as of January 2023) with a response rate of 22%. We send out the survey once a month to all our TRICARE Prime clients who have been discharged.
The reason that we started this survey is because we value client feedback and want to learn more about how we can improve the quality of our service.
The following results are areas in which we feel that we are doing well.
Over 90% of our clients agreed that they were satisfied with our service, had confidence and trust in our providers and would recommend us to their friends or family.
We also want to acknowledge areas that we need to improve and we appreciate your honest feedback so that we can work on the quality of the services we provide. One of the areas we did not do so well on was related to termination of therapy. Around 10% of clients were not happy with how their services ended. Having analysed the data, we understand that this is likely connected to early termination of therapy – and there could be a variety of reasons why this may have occurred. For example, it may in part be due to delays in the TRICARE approval process for reauthorization of care, in order to continue counseling after a certain number of approved sessions have been completed. It may also relate to changes as mental health providers have joined or left our team. We take your concerns regarding therapeutic endings seriously and we strive to make the process as smooth as possible. Using this feedback we have received we will continue to think about how we can make the process of ending therapy an experience that clients can be satisfied with.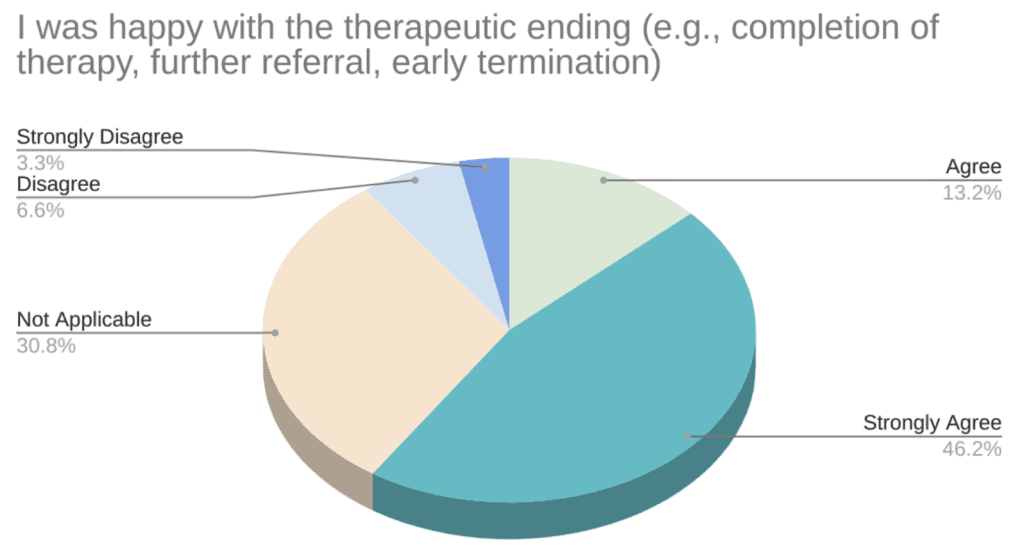 We also received some valuable, specific comments regarding things that some survey responders thought we could improve on:
Internet speeds can be a challenging problem and we are doing all we can at our end to improve those. In the worst case scenarios, we can complete a session using standard phone services if internet connection is lost. We do also offer in-person sessions for most types of service and would encourage clients to use both in-person and online sessions in the blend that works best for them.
We are currently operating a waiting list due to the high demand for services and the high need in the community we serve. We are doing all we can to keep the waiting list as short as possible and are grateful for your understanding in this matter.
We wanted to say a big Thank You to everyone who gave up their own time to complete our client survey. Feedback from clients is one of the best ways we can learn more about how to improve our services for all who use them.