Last June was Pride Month, and people celebrated with events like Tokyo Rainbow Parade in April. In the most updated survey of the National Institute of Population and Social Security Research, published on April 25 2019, 8.2% of Japan's population (1 in 12 people) identifies as LGBTA or are uncertain about their sexual orientation. While some claim that Japan has rather liberal views towards the LGBT community with generally accepting attitudes, others disagree. There are some reports of a higher suicide attempt rate amongst the LGBT community. Such as the case of the tragic suicide of a gay student at Hitotsubashi University. His parents filed a damage suit against the university, and another student for 'outing' him without his approval. His parents fought for accountability from the university for not providing sufficient assistance when the student reached out. This incident provoked many conversations and brought more recognition to the LGBT community. Coming out in Japan is not easy.
Why is that?
Work Discrimination Against the LGBT Community in Japan
A survey was conducted by the National Institute of Population and Social Security Research. It showed that more than 70% of male managers would feel "displeased" if they find out a co-worker was gay. In addition, according to a survey conducted in 2016 by the Japanese Trade Union Confederation, around one-third of people feel "resistant" to working with a gay or a bisexual colleague. The result shows a lack of full acceptance of the LGBT community, which may explain why many choose to stay closeted or only disclose their sexual orientation to a few close family members. When they face discrimination or unfair treatment, they may remain silent and suffer further from social isolation. There are currently no codified laws protecting members of the LGBT community from discrimination. Lack of legal support and social acceptance may result in a higher chance of bullying or power harassment in the workforce.
Japanese Cultural Influence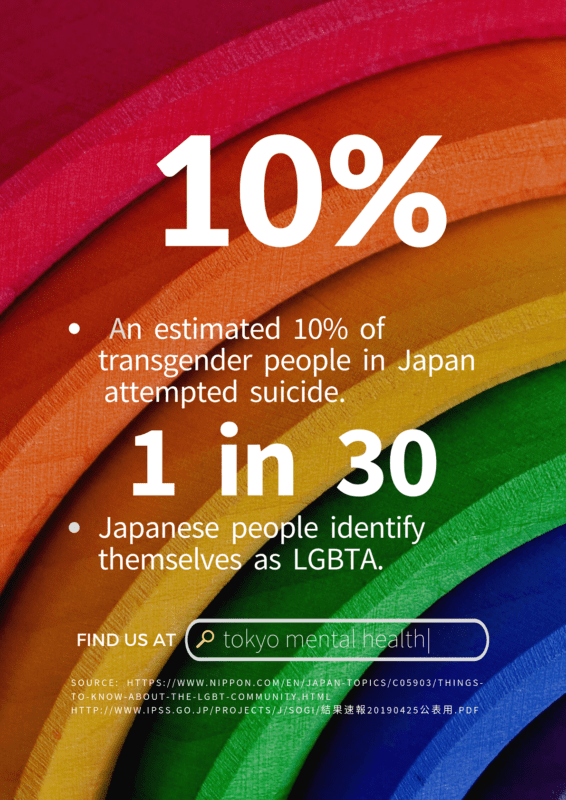 If you turn on Japanese local TV, it is no rare sight to see cross-dressing gay or transgender personalities. Take Ai Haruna for instance, and she is an MTF (Male to Female) transgender personality who often appears on national television. The LGBT on-stage personas may sometimes appear ridiculous and some have argued their behaviors create a negative image in people's minds or reinforce unhelpful social stereotypes. This may discourage LGBT people from coming out as they may fear their families and friends would look at them the same way. Internalized Homophobia is defined as "the gay person's direction of negative social attitudes toward the self, leading to a devaluation of the self and resultant internal conflicts and poor self-regard." (Meyer and Dean, 1998). This happens when they have been taught that heterosexuality is the "right way to be", and repeatedly see repulsive representations of LGBT people, that lead them to internalize these negative social attitudes. This could be harmful leading to denial of sexual orientation, negative body image, low self-esteem and withdrawal from friends and relatives.
Tokyo Mental Health is Here for You
If you are experiencing mental health issues or suicidal thoughts, you are not alone. Please reach out for help. Please contact Tokyo Mental Health or visit our resource list here.
Sources
The Rainbow Project, Internalised Homophobia, (2017, June 29). Retrieved from July 19, 2019, from https://www.rainbow-project.org/internalised-homophobia
Revel & Riot, Internalised Homophobia, intimacy, and sexual behaviour among gay and bisexual men, in Stigma and sexual orientation: Understanding prejudice against lesbians, gay men, and bisexuals (n.d). Retrieved July 19, 2019, from
http://www.revelandriot.com/resources/internalized-homophobia/
South China Morning Post, (2019, April 23). How a gay student's suicide after being outed is helping Japan's LGBT community speak up.Retrieved July 13, 2019, from https://www.scmp.com/news/asia/east-asia/article/3007284/how-gay-students-suicide-after-being-outed-helping-japans-lgbt
The National Institute of Population and Social Security Research (2019, April 25). Retrieved July 20, 2019, from http://www.ipss.go.jp/projects/j/SOGI/結果速報20190425公表用ENG.pdf
The Japan Times, Tokyo Rainbow Pride participants march for 'change' in LGBT recognition, (2017, May 8). Retrieved on July 10, 2019, from https://www.japantimes.co.jp/tag/tokyo-rainbow-pride/
Nippon.com, Things to know about the LGBT community, (2019, March 20). Retrieved from July 10, 2019, from https://www.nippon.com/en/japan-topics/c05903/things-to-know-about-the-lgbt-community.html
Nippon.com, Sexual Minorities in Japan: The Myth of Tolerance, (2016, October 21). Retrieved from July 10, 2019, from https://www.nippon.com/en/currents/d00253/sexual-minorities-in-japan-the-myth-of-tolerance.html
The Yomiuri Shimbun, タレント はるな愛さん]性同一性障害(4)のどにポリープ 声出せず, (2012, March 22). Retrieved from July 19, 2019, from
https://yomidr.yomiuri.co.jp/article/20120322-OYTEW53614/