Happy holidays from everybody here at Tokyo Mental Health! As we move closer to the Christmas and New Year holidays, we'd like to let you know of a few schedule changes for a couple of our therapy locations. 
The holiday hours for both our Shintomi Therapy Office and our Mihama Therapy Office will differ slightly from our usual schedule. Please check below for the full holiday schedule for both offices!
If you have any questions, please email us at [email protected]. Please have a safe and enjoyable holiday season!
Tokyo Mental Health Shintomi Therapy Office (Tokyo)
Until Dec 29: Regular hours (9am-9pm; open throughout Christmas)
Dec 30-Jan 2: Closed
Jan 3: Open (9:00-17:30)
From Jan 4: Regular hours (9am-9pm)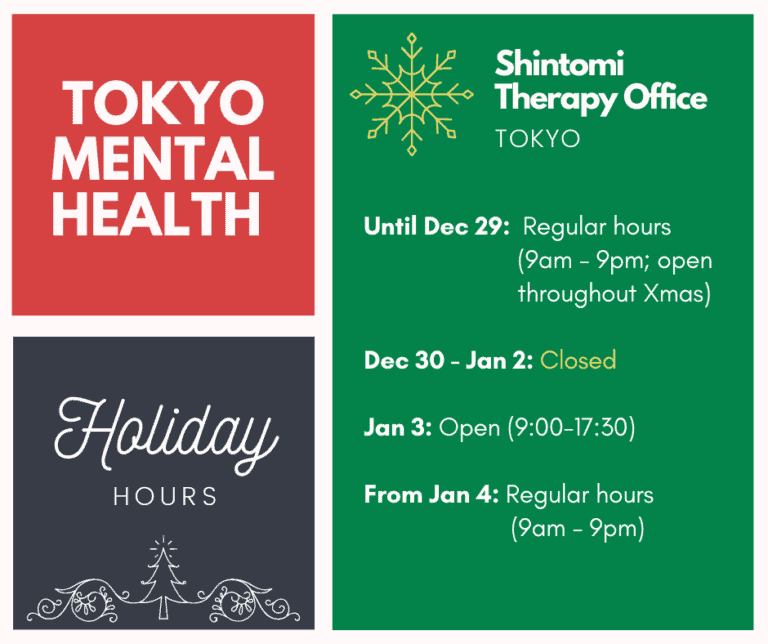 TMH Okinawa Mihama Therapy Office
December 25 (Fri) Closed as always
                   26 (Sat) Closed additionally
                   27 (Sun) Closed as always
                   28 (Mon) Open (8am-4pm)
                   29 (Tue) Open (8am-4pm)
                   30 (Wed) Open (8am-4pm)
                   31 (Thu) Open (8am-4pm)
January    1 (Fri) Closed as always
                   2 (Sat) Open (8am-4pm)
                   3 (Sun) Closed as always
                   4 (Mon) Open (8am-4pm)
                   5 (Tue) Open (8am-4pm)
*Note: TMH Okinawa Mihama Therapy Office is usually closed on Fridays and Sundays