Tokyo Mental Health providers Kyoko Murata and Ryota Sakurai recently made two presentations, promoting TMH's Employee Assistance Program to companies in the Tokyo area.
Keep reading to learn more about their experiences!
---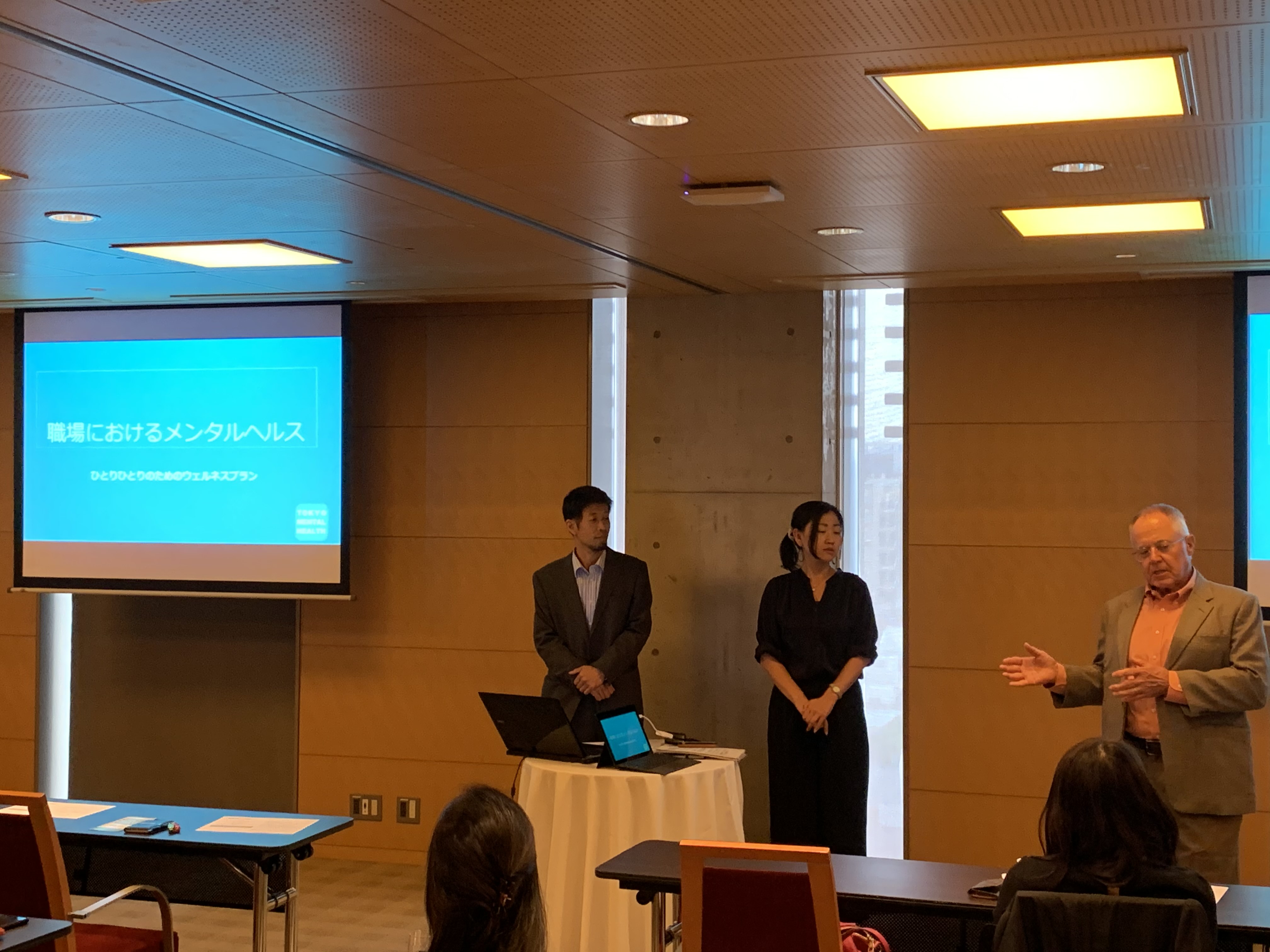 In October, we went to Tokyo American Club to do a three-hour presentation in front of about 15 HR people from multiple companies. The main topic was mental health at work. We went over: what mental health is about, stats on mental health in Japan, depression, anxiety, alcohol-related problems, power harassment, how to have healthy communication at work, and what managers need to know about mental health at work. The presentation was mostly done in a lecture style, but we also did some exercises where the participants work in groups and discuss solutions for possible problems at work. The participants seemed engaged during the presentation. A few of them asked us questions individually during the break and after the presentation.In November, we went to Universal Music Japan to do another presentation. We did an hour long presentation twice. It was a part of the health awareness event in the company. Each one had about 10-15 people. This time, we were asked to focus on stress management. Therefore, after lecturing on mental health in Japan, depression, anxiety, and such, we provided instructions for how to do mindfulness meditation, deep breathing, and progressive muscle relaxation. The participants seemed interested in the topics and asked a lot of questions.
---
10月に東京アメリカンクラブにおいて、私たちは3時間のプレゼンテーションを約15人の様々な会社の人事部で働く方たちに向けて行いました。トピックは職場におけるメンタルヘルスです。内容としては、メンタルヘルスとは何か、日本におけるメンタルヘルスに関する統計、うつ、不安、アルコール関連の問題、パワハラ、職場での健全なコミュニケーション、そして職場でのメンタルヘルスに関してマネージャーたちが知っておくべきことです。プレゼンテーションは講義形式で行いましたが、参加者がグループに分かれて職場で起こりがちな問題例に関して解決策を一緒に考えたりする時間も持ちました。参加者はしっかりと集中して聞いてくれていて、何人かは休み時間やプレゼンテーション後に個人的に質問もしてくれました。 11月にはユニバーサル・ミュージック・ジャパンにおいてプレゼンテーションを行いました。今回は1時間と短いものを2回繰り返すという形でした。先方のヘルスアウェアネスに関するイベントの一環で、参加者は社員の方たちでした。それぞれの回に10-15人位来てくれました。テーマはストレスマネジメントにしてほしいという要望があったため、日本におけるメンタルヘルス、うつ、不安などについての講義をした後、マインドフルネス瞑想、深呼吸、プログレッシヴ・マッスル・リラクゼーションなどの練習も実際に行いました。参加者の方たちは、興味を持って聞いてくれて質問もたくさんしてくれました。To learn more about our Employee Assistance Program please visit https://www.tokyomentalhealth.com/employee-assistance-program-eap/.