We are delighted to welcome our new counselor, Estefania Ospina-Alikhan M.S. LCMFT, to Tokyo Mental Health's growing team of service providers! 
Estefania Ospina-Alikhan is a Licensed Clinical Marriage and Family Therapist (LCMFT) that is fluent and bilingual in English and Spanish. She earned her Bachelor of Science degree in Psychology with a minor in Child Development from Florida State University. She then continued her education at the University of Maryland at College Park and obtained her Master of Science degree in Couple and Family Therapy.
Estefania has had consistent experience working with clients of all ages and diverse backgrounds conducting individual, family, and couples therapy. Through this clinical experience and ongoing individualized training, Estefania is equipped with a variety of therapeutic skills to provide specialized treatment for adults seeking to address mental health challenges. These include depression, anxiety, bipolar disorder, grief and loss, childhood trauma, abuse, relationship distress, and navigating life transitions. 
Through a strong and collaborative therapeutic relationship, Estefania utilizes a family systems theory approach to conceptualize problems and identify resiliency factors in her clients. She prioritizes the consideration and validation of systemic influences in her clients' lives such as cultural upbringing, race, gender identity, sexual orientation, and the impact of systems of oppression on mental health. She implements therapeutic skills and interventions including Cognitive Behavior Therapy (CBT), solution-focused models, Dialectical Behavior Therapy (DBT), mindfulness, and Gottman Method modalities in order to meet her clients' clinical needs.
We asked Estefania some questions to get to know her better…read more below!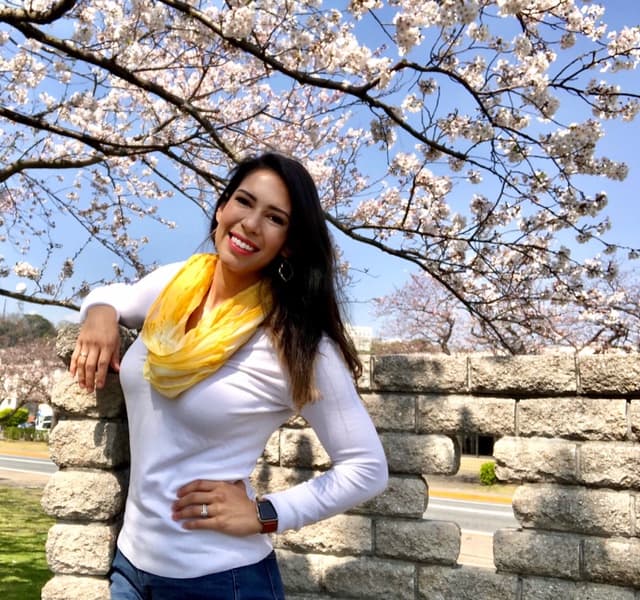 What do you enjoy most about being a counselor?
I am passionate about the work that I do, and it is an absolute privilege to bear witness to a client's healing process and support their journey. I deeply value the positive outcomes that are possible with a strong therapeutic relationship, and how it can create safety for emotional and mental health healing to occur. I enjoy empowering my clients to connect with their strengths, master new coping skills, build healthy relationships, and live authentic and thriving lives.
I do my best to practice what I preach, and have learned that creating a separation between my work and personal life is an important part of my self-care routine. Doing so allows me to show up authentically for my clients. Thus, when I'm not working, I can usually be found outside on a sunny day, going for a long run, rollerblading, dancing salsa in my kitchen, or out trying a new restaurant. Novelty is easy these days because as a US military spouse living in Japan for the first time, my husband and I aim to stay busy exploring this beautiful new culture.