We are delighted to welcome our new therapist, Rekha Selvaraj, M.S, BCBA, LBA, to Tokyo Mental Health's growing team of service providers!
Rekha Selvaraj is a board certified behavior analyst (BCBA) and Tennessee state licensed behavior analyst (LBA), who practices applied behavior analysis (ABA) therapy at Tokyo Mental Health (Currently not available). She completed her Masters at the University of Memphis, USA in 2019 and moved with her family to Japan in 2021. Rekha has experience working with children aged between 12 months to 15 years old diagnosed with ASD (autism spectrum disorder), ADHD (attention deficit hyperactivity disorder), developmental delays and other behavioral disorders.
She has extensive experience in:
Performing assessments
Creating individualized behavior treatment plans
Planning functional life skills
Treating severe SIB (self-injurious behavior)
Noncompliance
Developing social and communication skills
The Picture Exchange Communication System (PECS)
Providing 1:1 sessions
Parent training
Eye contact training
She has used a wide variety of assessment tools to identify skill deficits and to set treatment goals. Some of the common applied behavior analysis (ABA) techniques she uses are:
Reinforcement
Prompting
Discrete trial teaching
Naturalistic teaching
Token economy
Task analysis
Rekha Selvaraj has experience working in clinical, school, home-based and community-based settings. She also has experience working across various ethnicities, races and religions and can provide assessment and therapy in English and Tamil.
We asked Rekha some questions to get to know her better…read more below!
What do you enjoy most about being a therapist?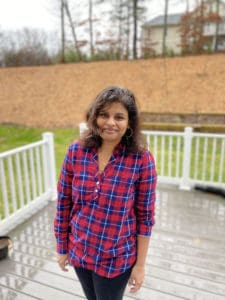 ABA (applied behavior analysis) has impacted my life a lot. Working with children having severe behavioral issues and seeing their behavior decreased by your treatment plan makes me feel content.
What are your hobbies?
Outside my work you can find me practicing yoga/Zumba. Other than that, being a mom of two children, I love baking. Baking with my children takes me back to my childhood days and keeps my memory fresh, so I make sure I bake at least once a week with my kids.