Author: Bronwen Dawson
Preventative measures of the Coronavirus pandemic (Covid-19), such as quarantine and social distancing, can make accessing reliable mental health services difficult and frustrating. You may have come across the following questions during the pandemic:
"I'm in quarantine. How can I see a therapist without leaving my house?"
"I'm practicing social distancing. How do I not break social distance when I see a therapist?"
"I don't live in Tokyo. Where can I access English-speaking therapy services remotely?"
If these thoughts sound familiar, you can be rest assured that we've got you covered. Tokyo Mental Health offers online & telephone therapy services for individual, couples and family therapy, which means that you can access therapy anywhere, provided that you have internet access. No more worrying about leaving your home or breaking social distance! 
Continue reading to find out more about online therapy, where we answer common questions people have, including "what is online therapy?", "how can online therapy help me?", "who is online therapy for?", and more. Read on to see how you can book an appointment with one of our experienced therapists online.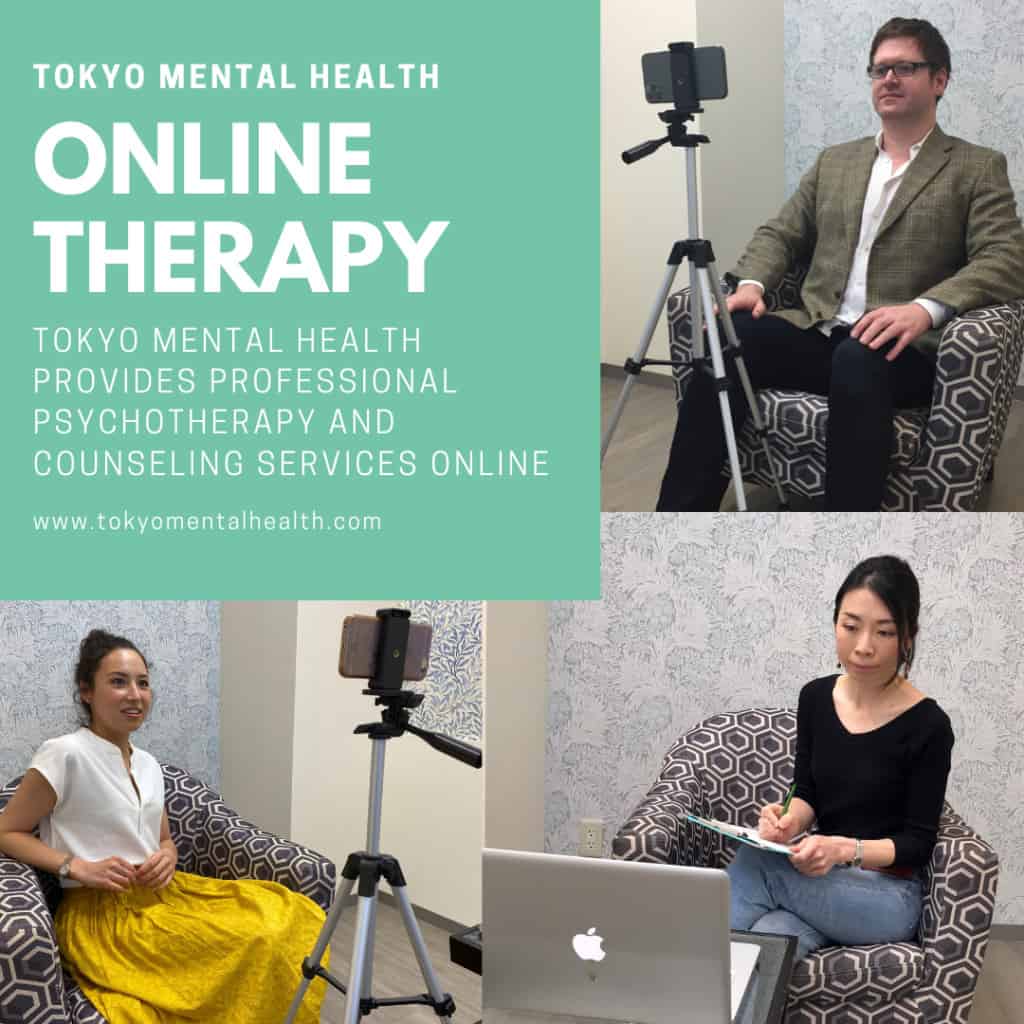 What is online therapy?
Online therapy, otherwise known as online counseling, telehealth, E-mental health, internet therapy, E-therapy, or cyber counseling, is therapy delivered via the internet on an electronic device. The content of online therapy is just like in-person therapy, where there will be one therapist to a client (or one therapist to more than one client for couples or family therapy.) However the therapy sessions will be held over a live video call.
Does online therapy really work?
Numerous studies have shown that individual online therapy is effective for treating a range of mental health issues, including mood and anxiety disorders (depression, generalized anxiety disorder, hypochondriasis, obsessive-compulsive disorder, PTSD, agoraphobia), eating disorders, acute stress and panic (Backhaus et al., 2012; Stubbings et al., 2013).
Furthermore, studies have shown that individual online therapy is not only just as functionally effective as in-person therapy, but also just as effective for creating and maintaining a good client-therapist relationship (Stubbings et al., 2013; Sucala et al., 2012).
How can online therapy help me?
Online therapy gives you a chance to discuss mental health problems you are experiencing with a professional therapist in a safe and confidential space. Our internationally licensed and experienced therapists at Tokyo Mental Health come from international backgrounds with a diverse range of cultural experience, who can provide individually-tailored therapy services for the international community in Japan. Whether you simply need counseling support during the COVID-19 pandemic or whether you have specific symptoms of anxiety, depression, insomnia or substance/alcohol use disorders and need more structured and specific therapy for this, online therapy can help.
Is online therapy for me?
Online therapy is for anyone who would like to receive help for their mental health without the need of visiting a mental health office.
Some people may feel that their mental health has been affected by the Covid-19 pandemic. For example, it wouldn't be uncommon for many people to feel more sadness, worry, and fears than usual. Isolation and loneliness can also be common due to quarantine and social distancing. Some may experience pain and grief from the loss of their loved ones, whilst others may be concerned whether their cleaning habit is becoming suggestive of OCD. There are many ways in which a pandemic can affect mental health, and we can help. Our mission at Tokyo Mental Health is to provide high quality mental health care using evidence-based services that are customized to fit your individual needs. You can read more about the effects of the Covid-19 pandemic on mental health on our website.
If you are unsure whether you would benefit from online therapy, please don't hesitate to contact us – our contact details are listed below.
How long are online therapy sessions?
A standard individual online therapy session is 50 minutes. Standard online couples and family therapy sessions run for 80 minutes. You can find more information on our FAQ page.
Unsure whether you should see a therapist online? 
Here are 5 reasons you might benefit from online therapy:
You want to access psychotherapy in English, but coming to central Tokyo for therapy is not a realistic option.
You can't or don't want to leave your house due to Covid-19 pandemic and/or quarantine, but would still like to have therapy.
You would like to talk to someone about the problems you are experiencing in a safe and confidential space whilst keeping social distance.
You would like to have privacy and anonymity to talk about personal problems with a therapist.
You don't really know if you have a mental health problem, but feel that you'd benefit from getting help from a mental health professional.
Booking an appointment with us is an easy one-step process. Simply visit our website and fill in the contact form. Alternatively, you can email us with your enquiries at [email protected]. Our clinical staff are happy to help, and will get back to shortly.
Looking for more information about mental health? Find reputable information about mental health on our website.
References:
Backhaus, A., Agha, Z., Maglione, M. L., Repp, A., Ross, B., Zuest, D., … Thorp, S. R. (2012). Videoconferencing psychotherapy: A systematic review. Psychological Services, 9(2), 111–131. doi:10.1037/a0027924
Stubbings, D. R., Rees, C. S., Roberts, L. D., & Kane, R. T. (2013). Comparing in-person to videoconference-based cognitive behavioral therapy for mood and anxiety disorders: randomized controlled trial. Journal of medical Internet research, 15(11), e258. https://doi.org/10.2196/jmir.2564
Sucala, Madalina & Schnur, Julie & Constantino, Michael & Miller, Sarah & Brackman, Emily & Montgomery, Guy. (2012). The Therapeutic Relationship in E-Therapy for Mental Health: A Systematic Review. Journal of medical Internet research, 14, e110. doi:10.2196/jmir.2084.
About the author:
Bronwen Dawson, MSc
Bronwen completed her MSc in Abnormal and Clinical Psychology at Swansea University in the UK and is a member of the British Psychological Society. Whilst studying to obtain her master's degree, Bronwen was on placement as an assistant psychologist in the NHS where she audited a child and adolescent mental health service and assisted cognitive behavioural therapy (CBT) groups for adults with depression and anxiety.
Bronwen carries out psychological assessments for Attention Deficit Hyperactivity Disorder (ADHD), Autism Spectrum Disorder (ASD) and Specific Learning Disability (SLD) for children, adolescents, and adults.